1849, the license to sell alcoholic beverages was extended for the Weiper family the first time. Unfortunately information on the period before 1849 does not exist. But the name Nagel started playing a role in 1907 when Anna Weiper and Joseph Nagel married and took over the operation. Their son Alois and Elizabeth Schrieverhoff married in 1951 which was also the "re-opening" year of the pub. After a few years, in 1955, the hall is extended. In 1979 the bowling alley was added and the hall extended again.
Josef (son of Alois and Elisabeth) and Beate Nagel married in 1985 to run the family business. In 1994, the two extended the guesthouse and 14 rooms were available. However, that wasn´t enough. In 2001, the hotel was built with beer garden and there were another 13 comfort rooms added. 2008 Josef Nagel created a "jeux de boules" track in his beergarden and the 1st südlohnner Boulesclub was founded.
Picture top left: Joseph Nagel
Picture top right: having a great time during the re-opening in 1951
Picture top middle: Family celebration at the Beergarden in 1951
Picturo on the bottem right: his wife Anna Nagel
Picturo on the bottem left: Playing cards was very popular at that time.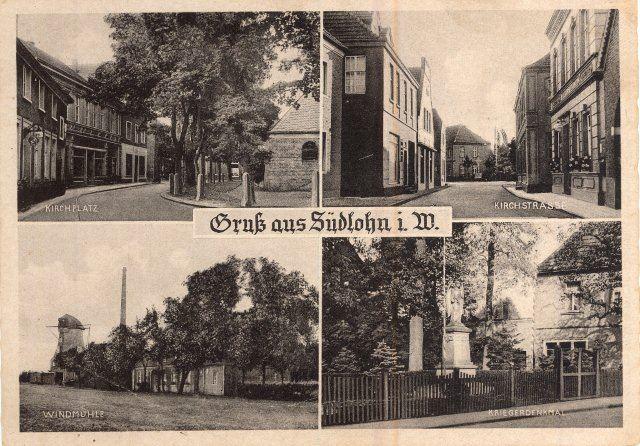 Foto & Tekst: Gemeentarchief Südlohn
This postcard shows Südlohn after the year 1936.
Top left the church square with the newly added sacristy, left the houses Rotterdam, Telöken and Schrote.
Right above the church road. The left hand side shows the business Nathan Wolff and Wilhelm Bürger. Behind the house of Funke - former headquarters of the Office Stadtlohn with the Clerk of Basse.
Links below shows the Menke Mühle, in the year of admission without wind vane.
Bottom right shows the war memorial on Church Street.


Foto: Aan het eind van de straat ziet men links het bedrijf van Nagel en rechts het Gastenhuis.